Opal 28 Corporate Package
We would love to host your team!
Opal 28 consists of four spaces: a private patio, bar, main room and reserve room. All meetings have all-day, exclusive use of the entire venue. The main work area is central with a 54" TV mounted on the wall with HDMI connectivity. We typically setup the breakfast & lunch buffets, coffee stations & snacks in the bar area. The patio & the Reserve Room are used during lunch, breakout sessions or group exercises away from the boardroom. Each meeting is different & we would love to hear more about your layout needs!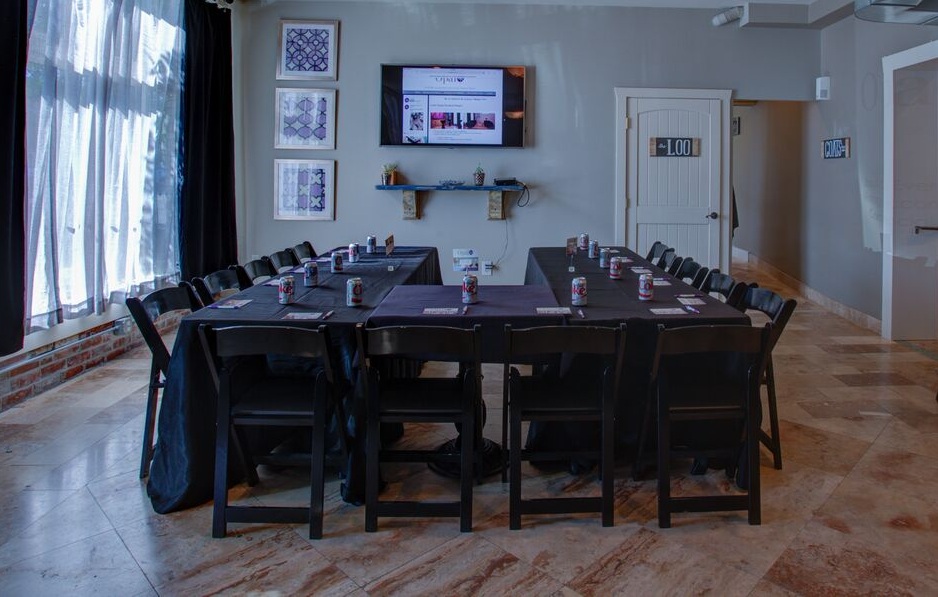 (Please note that the soft seating pictured above is not included in the standard all-inclusive package and is rented in addition. Soft Seating is a great upgrade - please inquire!)
INCLUDED LUNCH OPTIONS
All Lunch Options Served with Sodas & Dessert Treats
Sandwiches: Scratch-Made Vegan Soup, Seasonal Green Salad & Custom Sandwiches (attendees to fill out a sandwich form at the beginning of the meeting)
Mediterranean Faire (Build a Gyro): Warm Pita Bread, Seasoned Grilled Chicken, Mixed Green Greek Salad, Seasonal Roasted Veggies, Olives, Feta, Tomato/Onion, Hummus & Tzatziki
Taco Bar: Corn & Flour Tortillas, Shredded Chicken, Fajita Veggies, (Onions & Peppers), Spanish Rice, Shredded Cheese, Guacamole, Sour Crema, Salsa, Cilantro, Lime & Assorted Hot Sauce
Deconstructed Cobb/Caesar Salad Bar: Grilled Chicken, Bacon Bits, Hard Boiled Eggs, Romaine Lettuce, Avocado, Tomatoes, Red Onions, Cucumbers, Crumbled Blue Cheese, Parmesan, Croutons, House-made Blue Cheese Dressing and House-made Vegan Caesar
INCLUDED BREAKFAST OPTIONS
All Breakfast options served with Trailhead Coffee & Orange Juice
Continental Wake Up: Fresh Fruits, Assorted Pastries & Fresh Jams
Individual Parfait: Layered House Granola, Fresh Berries & Yogurt
Wake Up: Farm Fresh Eggs, Maple Smoked Bacon, Whole Grain Toast w/ Jam & Seasonal Fruit
Individual Oatmeal: Selection of Straw Propeller Gourmet Oats
**For a Medley of all Options Add $6/Person to All Inclusive Package**
If you would like to upgrade any of the breakfast or lunches, please see our full-service menus below.
If you would like to add a Happy Hour to the end of your meeting, we recommend choosing a few snacks from our appetizer menu in addition to bar service!
If you would like to come by the space & talk through your meeting details in person, please schedule a time below!
Not looking for a 9am-5pm meeting? Maybe you are hosting a workshop with beer & wine? Or a formal presentation with dinner?
If this special is not applicable to your meeting agenda we have a variety of additional customizable offerings. Send us some more details!
FINE PRINT:
Minimum of 12 People for the $99/person rate.
10% gratuity is added to the total price of the All Inclusive Package.
Additional hourly rental charge of $100 per 30 minutes past contracted timing (7:30am-5:30pm).
PLEASE NOTE: Our TV & Projector can be connected to via HDMI - if your computer does not have an HDMI input please bring appropriate adapters.
Corporate FAQs
What AV equipment is included in the space?
Opal 28 has a 54" flat screen SMART tv that can be connected to a laptop/ipad via HDMI. We do not have adaptors to connect every type of computer to our HDMI, so please come with your own adaptor. If your presentation is visually heavy, we can facilitate a projector rental with an 8ft screen for an additional charge.
Does soft seating come with the venue?
Opal 28 has two armchairs, a couch, and eight stools with padded seats that are included in the venue rental. If you think your team would enjoy couches & armchairs to create a cozy, work-from-home feel, we can facilitate a rental for an additional charge. Pricing starts at $80/person + $250 Delivery.
Are there areas for breakout sessions?
Yes! Opal 28 is made up of two large great rooms and a private outdoor patio that are perfect for breakout sessions and lunch service.
What's included with the Venue fee?
(5) 60" round tables seats 8ppl, (4) 8' rectangle tables seats 10 ppl, (2) 6' rectangle tables, (6) high top bistro tables, (2) 3' square tables, (40) black banquet chairs, (35) wood & metal chairs, place settings, servingware, glassware, black or white assorted linen napkins, runners & centerpiece options, surround sound with AUX & Bluetooth connectivity, 54" HD Smart TV.
*We work closely with The Party Place & West Coast Rentals and can rent any additional items that you request, rental fees apply.
What is the deposit and when are the payments due?
Opal 28 requires a $750 non-refundable deposit due at booking to secure the date and time of your meeting. The final payment is due two weeks before the meeting date (after the final guest count, timeline, room layout preferences & all other final details are submitted). The final bar tab (if applicable) will be due within three days after the event date based on bar consumption.
What does Opal 28 mean?
The opal is the October birthstone and we are located on 28th Avenue. Owner, Margot Feves' treasured Grandma Sadie was born on October 28th. In the 60's the retail space that is now the Main Room was a grocery store. It's possible that Gram Sadie once did her grocery shopping at this very location.